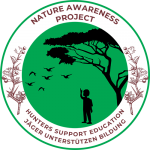 About The Nature Awareness Project
The Nature Awareness Project, which runs under the umbrella of Hunters Support Education, a committee of the Namibia Professional Hunters Association, changes the goals from practical application ie. donations to schools as has been practiced since 2004, to social networking.
History:
The Nature Awareness Project has been born from the experience, that a high percentage of our Namibian children have no idea about our fauna and flora, our natural treasures, and our sustainable use of wildlife and conservation. This was and is leading to receptiveness for attacks against hunting and sustainable utilization of wildlife, as enshrined in the Namibian Constitution.
Thus the "Back to Nature" concept was born in 2014. After numerous outings with the children of the Waldorf School Windhoek, the Project was renamed to "Nature Awareness Project", aiming to educate our children about nature, sustainable use of fauna and flora, learning respect in all facets of our Namibian treasure: Nature!
In 2019 the Hunters Support Education committee took the Nature Awareness Project under its umbrella, introducing it to digital platforms as well as practical excursions as an instrument for nature education.
Goals:
The Nature Awareness Project aims to take kids into nature, both via social media and practical excursions, teaching them respect, ethics, sustainability, discipline, and awareness towards our constitutional right to the sustainable use of fauna and flora and thus the benefits for the Namibian people.
We aim to introduce and represent the project on digital platforms and via educational videos;
Taking Namibian children to educational outings, either day outings or weekends;
Teaching sustainable use via outings, classes, presentations to numerous schools in Namibia;
Raising awareness of the value of an intact ecosystem;
Introducing and showing Namibian children all our diverse wildlife and enticing respect towards the same;
Introducing and educating people about the wonders of our diverse plant life, providing numerous uses, including medical.
Our Nation's children are the leaders of tomorrow, and only through knowledge will they be able to face future challenges. 
With the introduction of this project and the implementation thereof, we hope to reach sponsors and donors, so that the Project might be able to financially sustain itself.
We want our children to be proud of their natural inheritance and with this pride be able to take care of it, to find or establish jobs within this framework, and to defend what is rightfully all Namibians' treasure: Nature!